Get Started by Selecting Your Country: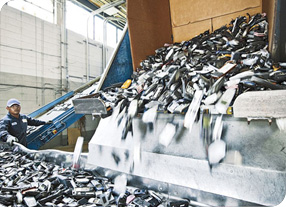 Free Recycling Quotes is a leading electronics recycling firm. We are innovative with our solutions for the collection, reuse, and recycling of used mobile phones and personal electronics. Free Recycling Quotes is the place to recycle your cell phone. We offer cell phone recycling programs for businesses, schools, hospitals and governments and households. Our solutions make us the ideal place to for your business or home recycle your phone.
A few hundred million cell phones a year are recycled compared with over1.6 billion new phones sold last year. Smart phones are now being recycled after only after a year or more of use. Cell phones contain toxic metals that can pollute the environment if not disposed of properly. Through Free Recycling Quotes responsible recycling programs, the material in phones such as metals and plastic can be recycled, decreasing the need for mining new metals.
Join with us, to make a difference in recycling cell phones responsibly, in your community or workplace. Our programs are free, easy, and helps keep harmful materials and chemicals out of the landfills.
At Free Recycling Quotes Earth Day is every day!
Through our refining program, phones are taken apart, pieces are shredded, and metal is smelted at our copper refiner, in effect helping save the environment.
Is it time for a new cell phone? Do you need to recycle the old one? Rather than adding it to your collection of unwanted electronics, recycle it with Free Recycling Quotes!
We make recycling cell phones, PDAs, chargers, and batteries easier.Recycling your cell phone or PDA will benefit your community and the environment.
Recycling cell phones helps the environment by saving energy and keeping materials out of landfills. Cell phones and PDAs are made of precious metals, copper, and plastics, all of which require energy to mine.
Recycling helps conserve the environment.
Recycling one million cell phones saves enough energy to power more than 185 US households with electricity for a year.