Get Started by Selecting Your Country: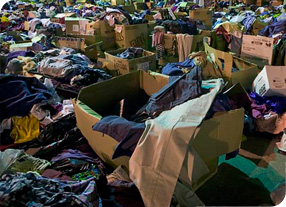 Free Recycling Quotes is a leader in the textile and fiber recycling industry. We have the capability of recycling a variety of material including most fibers, cotton, synthetic material, denim, wool, post-consumer fibers and mill waste.
Our nationwide coverage with over 60locations provides an excellent opportunity for business and households to recycle material.
Sources of Textile Waste
Clothing recycling is essential in the consumer goods industry. Everyone wears clothing and other textile products such as shoes, bags, hats,and glasses etc. Unfortunately the textile recycling industry does not get the attention it deserves.The consumption of textiles produces a lot of waste that could be recycled.
The majority of textile and fiber waste comes from household sources. Most post-consumer clothing and accessory waste goes to charitable organizations. The remaining items go to textile recycling facilities to prevent it from entering the landfills. All material is sorted and cleaned to make the best raw material.
Textile Recycling Saves the Environment
Textile recycling benefits the environmental and provides economic benefits to local communities. Recycling helps avoid polluting and saves energy from making textiles from new materials.
Collecting Textiles and Clothing
Most textiles are collected by nonprofit organizations or municipal and county programs. Please help us collect clothing and textiles to help save the environment.
We support clothes that are given to the homeless or sent to developing countries.Un-wearable items are recycled at textile recycling plants and sold as raw materials to the textile recycling industry.